The holidays are here, and what better way to celebrate (and procrastinate all your Christmas shopping) than with these iconic holiday-themed episodes of your favorite shows?
1. Mad Men, "Don's Holiday Hunch"
AMC's prestige drama won over critics and audiences with this season-four holiday classic. Someone stole all of the gingerbread cookies Pete Campbell baked, and Don Draper is on the case. After installing security cameras to monitor the Sterling Cooper Draper Pryce office at night, Don discovers the cookie thief is none other than himself sleepwalking. Fortunately, there was enough time to bake another plate of cookies for the office Christmas dinner.
2. Seinfeld, "Newman Raises A Penguin"
In a rare change to the show's structure, this entire holiday episode consists of a continuous, unedited shot of Newman nursing a penguin back from a serious illness in his Upper West Side apartment.
3. House, "Nog"
In this memorable Christmas episode, Dr. House's integrity is put to the test when he is confronted with a patient whose illness causes eggnog to ooze from his eyes. Will House cure the man of his horrible affliction, or take advantage of the endless supply of eggnog by starting his own eggnog company?
4. Star Trek: The Next Generation, "Deck The Holodeck"
Christmas celebrations are underway on the U.S.S. Enterprise when an attacking Borg cube threatens to spoil the holiday. Just when everything seems lost, a mysterious vessel swoops in and destroys the Borg ship. The show leaves little doubt who the good Samaritan was when Data looks at the sensors and announces, "That wasn't a spaceship, captain…it was a sleigh."
5. Law And Order: SVU, "The Christmas With Almost No Molestation"
The usually busy detectives of the Special Victims Unit get to spend the holidays at home with their families when, in a Christmas miracle, only two easily solved molestation crimes happen in all of New York City.
6. ALF, "Winter Blunderland"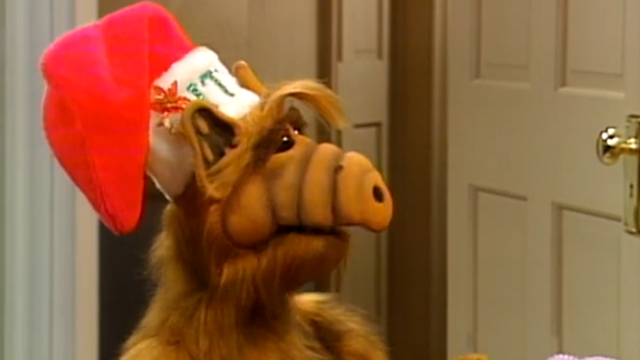 Who could forget this holiday classic? Alf spoils the Christmas mood by abruptly giving birth to one of the last of his species directly into a roaring fireplace.
7. Gilmore Girls, "A Very Gilmore Christmas"
In this moving holiday episode, Lorelai and Rory sit together in their home in Stars Hollow listening to Christmas music and flash back through their past 15 Christmases together. The first flashback features a scared and pregnant Lorelai driving to the hospital alone, where she gives birth to Rory right as the clock strikes midnight. The second features Lorelai at home holding a baby Rory by the fireplace right after she gives birth to her. The third features Lorelai giving birth to Rory on the side of the road while a kind mall Santa helps her through labor. The fourth through ninth feature Rory being extracted from Lorelai via C-section while Christmas carols play in the background. The 10th through 14th feature Lorelai adopting Rory as an infant. And lastly, the 15th features Rory giving birth to Lorelai.