Amidst the horror of the Syrian civil war, here is a glimmer of good that will make you smile.
Millions of Syrian refugees face uncertain futures as they try to take the difficult path to Europe or the U.S. This massive humanitarian crisis can seem overwhelming, but one awesome company is doing its part to help welcome refugees: Ben & Jerry's is now offering Syrian refugees a free cone if they saw a war crime.
Now this is a company that gets it.
From now through the end of the summer, Syrian refugees can walk into any one of the 600 Ben & Jerry's locations in the U.S. or Europe and receive a free ice cream cone in exchange for an eyewitness account of any war crime committed after the start of the 2010 Syrian civil war. From prisoner torture to cluster bomb attacks, refugees just have to approach the cashier, tell the story of the war crime they directly saw or had happen to them—not just heard about secondhand—and then pick their cone.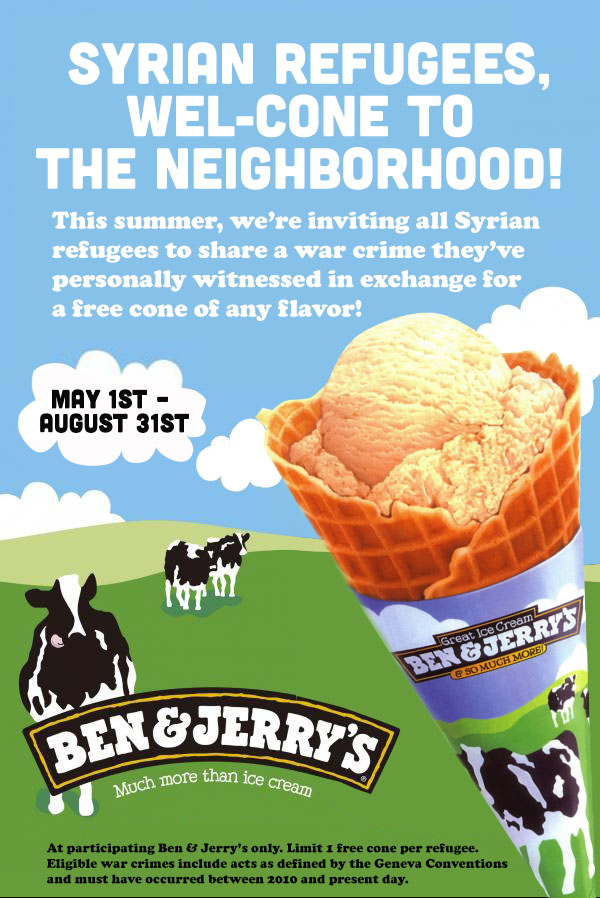 Wow! Who knew it was possible to love Ben & Jerry's even more?
Eligible war crimes must meet the criteria as documented by the Geneva Conventions, but those who qualify can select any flavor they want, so a refugee describing a chemical attack on an outdoor market can grab a free scoop of an old favorite like Chunky Monkey or a new, limited-edition flavor like Bohemian Raspberry. It may not solve all the refugees' problems, but it's a beautiful gesture during such a harrowing period in their lives.
Other corporations take note! While the end of the Syrian refugee crisis remains an uphill battle, Ben & Jerry's just proved that one small act of kindness can go a long way.