Hi sweetie, why don't you go ahead and take a seat. Your mother and I have something very important to tell you through 'OITNB' GIFs.
Last night, your mother and I had a big talk, and a really important thing was decided.

Your mom told me that after 24 years of marriage, she is no longer in love with me.
I told your mother that she's never truly loved me, which made her very upset.
She said I have the emotional intelligence of a 12-year-old.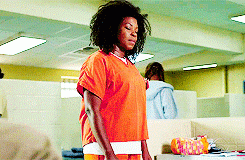 I tried to make up with her, just like old times.
But she said she felt the way she felt, and needed a change.
I asked her what she meant by that.
She told me that she wants a divorce.
I was blindsided.
But then I was all like
And your mother was like
And then she was all
And totally like
But I was totally
Then we both got very sad.
You see, 24 years is a long time to love someone.
I'm sure right now you're like
But the thing you need to remember more than anything is that your mother and I still love you very, very much.
You'll still see a lot of both of us, just separately now.
The custody situation will be all like
We'll all get through it, and we'll all be better for it.
If you have any questions, we are both happy to answer them.
We love you, sweetie.